Our Rights, Our Health, Our Future!
May 25th – African Liberation Day
May 10, 2021
Dear Friend,
African Liberation Day is an annual commemoration of the foundation of the Organization of African Unity (OAU) on May 25th, 1963, and aims to promote unity and solidarity among African people and states. It also is the anniversary of the 2017 launch of Africans Rising, a Pan-African movement of people and organizations working for peace, justice, and dignity.
Africans Rising is one of the Strategic Partners of the US-Africa Bridge Building Project.
In previous years, the Africans Rising movement has used May 25th to focus on African unity as well as on specific issues such as illicit financial flows, slavery, and health. Given the circumstances of the COVID-19 pandemic this year, Africans Rising calls on governments, institutions, and businesses to put lives before personal interests and profits during the global health crisis.
May 25th–the one-year anniversary of George Floyd's murder is a day of mourning for many around the world. Like Africans Rising, we view the 25th as a critical time to confront systemic racism and police violence and affirm that Black Lives Matter. George Floyd's murder echoed worldwide, reflecting visceral anger against police violence in a host of other countries, including African countries like Kenya, South Africa, and Nigeria. While Floyd's killer will be held accountable for his crime, the road to justice is long.
Our team and I hope that you will join in this global commemoration. Like Africans Rising, we are also "determined to foster an Africa-wide solidarity" and further the rights to "peace, social inclusion, and shared prosperity."
As Bridge Building Research Consultant Bill Minter and I have written, "Today's global crises—police violence, a global pandemic, the climate emergency, and many more"—require action wherever we live. But they also require global collaboration on a scale never seen before."
This month there are many ways in which you can take part in this global commemoration. You can:
Organize an online conversation to discuss the path towards justice and equity.
Use your creative talents to share what "Our Rights, Our Health, Our Future" means to you.
On May 25th, light a candle for 9 minutes and 29 seconds of silent reflection, the time that the killer's knees were pressed on Floyd's neck.
Join this global mobilization and register your activity here.
Please take a photo of your event and post it to social media; use the hashtags #RISE4OURLIVES #AFRICANSRISING @USAfricaBridge1
For more information, please:
Visit the Africans Rising website to learn more about the May 25th – African Liberation Day mobilization.
Download the Africans Rising Toolkit for more ideas and actions you can take on May 25th. 
In solidarity,
Imani Countess
Together, we must #Rise4OurLives!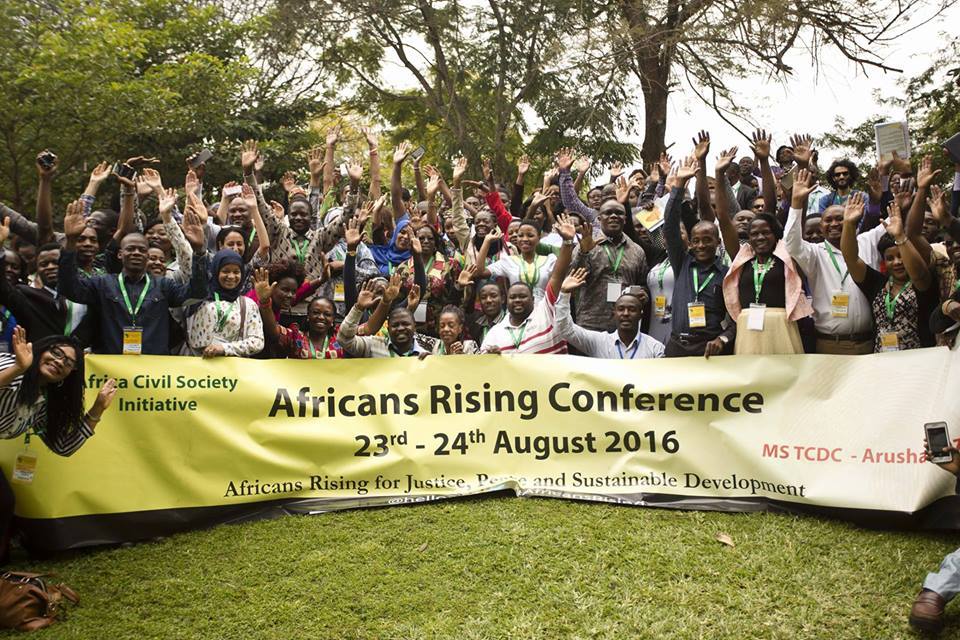 Excerpt from Kilimanjaro Declaration
Full declaration at https://www.africans-rising.org/the-kilimanjaro-declaration/
We, the citizens and descendants of Africa, as part of the Africans Rising Movement, are outraged by the centuries of oppression; we condemn the plunder of our natural and mineral resources and the suppression of our fundamental human rights.
We are determined to foster an Africa-wide solidarity and unity of purpose of the Peoples of Africa to build the Future we want – a right to peace, social inclusion and shared prosperity.
On the 23 and 24 August 2016, two hundred and seventy two representatives from civil society, trade unions, women, young people, men, people living with disabilities, parliamentarians, media organisations and faith-based groups, from across Africa and the African diaspora gathered in Arusha, Tanzania and committed to build a pan-African movement that recognises these rights and freedoms of our People.
The conference declared that:
Africa is a rich continent. That wealth belongs to all our People, not to a narrow political and economic elite. We need to fight for economic development that is just and embraces social inclusion and environmental care. We have a right to the 'better life' our governments have promised.
Africans have a diverse, rich and powerful heritage that is important to heal ourselves and repair the damage done by neoliberalism to our humanity and environment. Being African, embracing the philosophy of Ubuntu should be a source of our pride.
African Youth are a critical foundation of building the success in our continent and must play a central role in building Africans Rising.
Africa's Diaspora whether displaced through slavery and colonialism or part of modern day migration are part of Africa's history and future. They are a reservoir of skills, resources and passion that must be harnessed and integrated into our movement.
We are committed to a decentralised, citizen-owned future that will build support and solidarity for local struggles, empower local leadership and immerse our activists in grassroots work of building social movements from below and beyond borders.
We are committed to building a citizens movement that is accountable to the constituencies we represent and enforcing the highest standards of ethical behaviour.